Bethel CRC is a Juicys Winner
(The Juicys are a way to recognize and reward churches who've worked to improve their church communications during the last year. It includes giving them a grant to jump-start their next project. This week we're announcing the 2013 winners. There are five in total. Two are larger churches and three are smaller churches.)
If you took everything you use to communicate as a church and laid it on a table, would it all look like it came from the same place? That's the question Bethel Christian Reformed Church, a 550-member congregation in Sioux Center, Iowa, asked as they did a communications audit. The answer was, "No."
"Without an identity package, outsiders could be tempted to view Bethel CRC as unorganized and uninteresting," explains Media Specialist Renee Wielenga. "We knew that was not true."
Once the new branding was in place, Bethel CRC updated all their touch points: web, Facebook, printed materials and more. It was updating with a purpose.
Wielenga says, "In our rural Iowa town of Sioux Center — population 7,000 — there are 14 churches. Newcomers to the community have said it's hard to gauge what makes each church different, especially just by looking at outdated websites and mismatched pamphlets to each. As a result, people didn't know who we really were. We needed to develop a unique image that would help us stand out."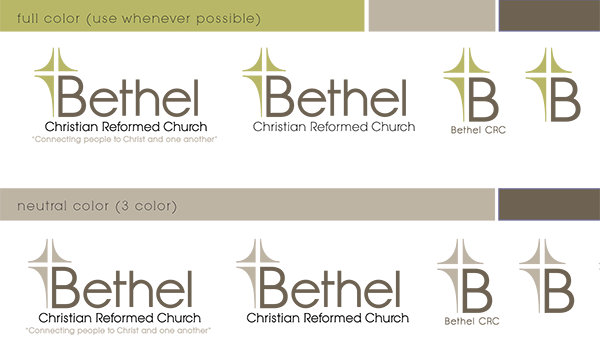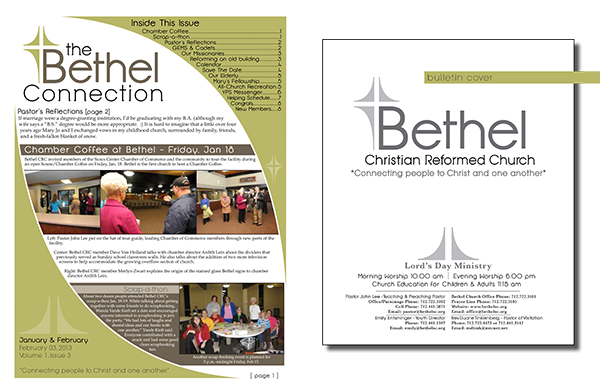 (Download the whole branding guide here.)
The process Bethel CRC used is fairly simple:
Start with an identity package. Organizing such a package helps the church focus on who it is and what its goals are.
Create a (small) committee to handle the rebranding process.
Use a graphic designer.
Create a timeline. Creating an identity package takes time; implementation takes longer. Setting a tentative timeline gives everyone involved in the process a goal to focus on and makes sure the implementation happens once the identity package is set.
Understand the process takes longer than anticipated. Such a project teaches patience.
Next, Bethel CRC wants to begin using video to tell their story. It's something they think will make them stand out in their community.
"This project is important because very few, if any, churches in our area utilize this tool, so our videos could function as a 'front door' more broadly to the Reformed faith for newcomers as well as serve as a 'best practice for area churches,'" explains Wielenga.