ChangePoint is The Juicys Communications Church of the Year (Larger)
(The Juicys are a way to recognize and reward those churches who've worked to improve their church communications in some way during the last year and includes giving them a $1,000 grant to jump start their next project.)

Our journey to find great church communications takes us to Anchorage, Alaska, where ChangePoint went through a complete communications overhaul.
"A year ago we had a very 'normal' communications strategy," says Communication Director Adam Legg. "We printed your standard mega-church bulletin, had a cluttered website, printed a monthly calendar, that sort of thing. But honestly we were just doing the 'basics', the kind of things that a church 'has' to do."
But the church, which averages 3,000 attendees a week, decided to rethink what they were doing. What if they didn't have to do anything? What if ChangePoint started over with only one thing in mind: Its people? The goal was to communicate with ChangePoiners wherever they might be. To accomplish that aim, they decided to focus on two things: mobile communications and a revamped weekly bulletin.
"Alaskans are quirky. We are a very transient group," says Legg. "In fact we believe that on any given weekend, a third of the committed members of our church are not here. In the summer, we are all fishing, camping and hiking. In the winter, we are out skiing or vacationing to warmer climates. Knowing that our members are so transient forces us to ask the question, 'how do we deal with that?' If we focus our communications on the weekend service (bulletin, stage announcements) then people can quickly feel disconnected and out of the loop."
After noticing a large number of web visitors coming via a mobile device, not a surprise given the church's younger demographic, ChangePoint decided to launch a mobile app on iPad, iPhone and Android using the company The Church App. Within the first three months, the app was downloaded 1,800 times and used more than 9,000 times. In the first month, the online sermons were listened to 500 more times than before launching the app.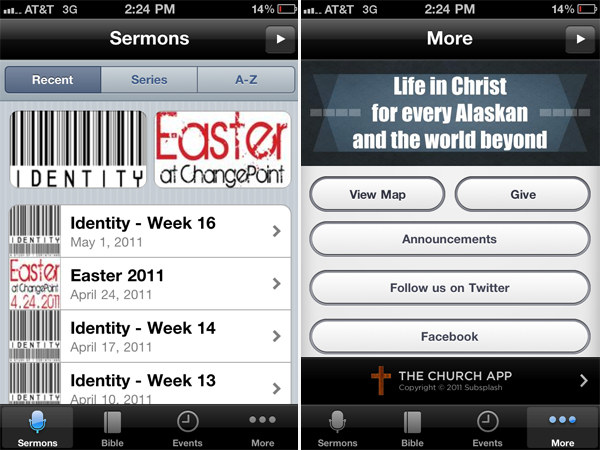 The second part of ChangePoint's revamp strategy was to redo the weekly print bulletins.
"When I looked at how people were using the bulletin it was primarily for the notes page during the message and for basic announcement info. I also noticed that the vast majority of the bulletins were ending up in the trash as soon as the services were over," says Legg. "Why were we spending so much money on something that so few seemed to really use?"
After getting some feedback from the congregation, the church launched a new bulletin design that's a third of the size. It's printed in-house, in black and white, and contains the top events coming up, giving information and details about the current message. The church still provides paper for sermon notes but those handouts are not date specific. People pick them up on the way into the sanctuary and the church saved money by printing those in bulk. In total, the $25,000 bulletin budget shrunk to $6,000.
By revamping how they communicate with their congregation, ChangePoint is not only better serving their people, but they're saving money, too. The overall communication budget is 50% less. This impressed one of our judges who said, "They aren't the first to shrink a bulletin and launch an app, but given their return on investment (the number of downloads and time spent using the app) I'm impressed."
When it comes to the motivation for doing this overhaul, Legg says, "Communication matters for a church for the same reasons that communication matters for a family. If you are part of a family but you never know what is going on and you are never told what's happening, it is easy to quickly feel like you aren't part of the family. The same thing happens in churches."
It's that sort of focus that impressed another one of our judges who wrote, "The fuel behind ChangePoint's communications overhaul was clearly the community and a desire to provide what this unique church family needs."
Up next for ChangePoint is a way to better reach their entire family and surrounding community. Anchorage's diverse population means there are several languages spoken in the city. The church has identified five of the core languages and wants to translate into those languages important pages on their website, like the sections on about us, what to expect and visitor information.