Long Hollow is The Juicys Communications Church of the Year (Larger) Runner Up
(The Juicys are a way to recognize and reward those churches who've worked to improve their church communications during the last year. It includes giving them a grant to jump start their next project. This week we'll be announcing the 2012 winners. There are four in total. Two are larger churches and two are smaller churches.)
Easter at Long Hollow Baptist Church in Hendersonville, Tennessee, was all about answering one question: Who is Phillip Randoll? The church of 6,500 found success in the past using traditional marketing tactics like mailers and mini-websites. While they were known in their community, they wanted to do something new that stood out. The idea of using peoples love for mystery lead to the creation of Phillip Randoll – a fictional person who came to life online.
"The main event for our Easter services is a multimedia dramatic production called 'The Fortunate Death of Phillip Randoll,' explains Eric Murrell who's the Interactive Communications Manager for the church. "With the story arc of that event in mind, I decided to focus our campaign around a single question: "Who is Phillip Randoll? Who is he? Why does this matter? Why am I seeing this question plastered all over town? Those are the questions we wanted our community to ask, so we constructed an elaborate mystery for them to unravel."
To create a buzz, Long Hollow used all sorts of communications tools. Billboards, bus bench ads, yard signs, posters and newspaper ads plastered the city. Plus they created a website, blog and social media accounts for Phillip. Guess what? All of it cost half the money they usually spent on mailing postcards alone. Murrell says that is one lesson every church can learn from this project. "Huge money pits like mass mailers aren't always the best use of your communication dollars," he says.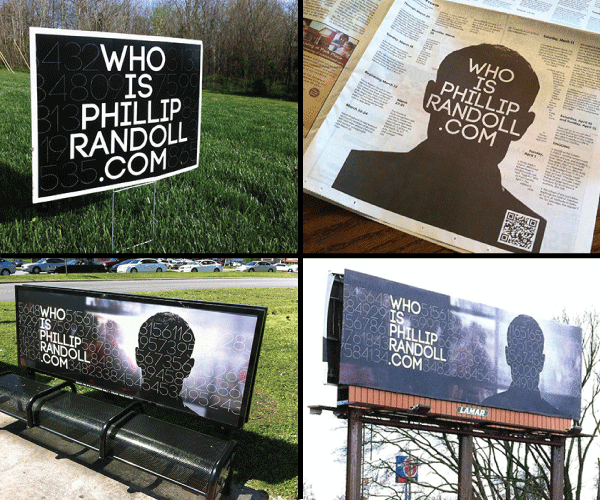 As pieces of this campaign rolled out to the community, an alternate reality game began to reveal itself too. It took a lot of effort from church staff to create this fictional persona and it also took a lot of buy-in, too. Not only did they have to generate content; they had to believe in the idea.
Beyond staff commitment, the congregation needed to believe in it as well. As one way of getting them involved, Long Hollow created a webpage with ways the congregation could engage in the campaign. It included images they could use on Facebook, e-cards they could send to friends and flyers they could print out to share.
As the fictional Phillip Randoll came to life, online users started to see a mystery unfold. You followed him as he became sick and read along about spiritual conversations he was having with a friend. Readers learned more and more about him, and his love for puzzles, as little chunks of content and clues were revealed. It was an online game where a community of people could work together to solve a mystery.
"Think of it as a mixture of solving codes, uncovering clues and geocaching," says Murrell. "It's really fun seeing families in our community gathering together around these puzzles and having a blast! It [was] thrilling to watch people interact with Phillip and get involved with a campaign in ways that we haven't seen in years past!"
It's that engagement that impressed one of our judges. She wrote, "Intrigue! Mystery! This campaign injects personality and excitement into the promotions. Love the interaction and build-up it generated."
Despite the game aspect of the campaign, there was always a push to get people to the church on Easter Sunday. That's why another one of our judges loved this project. He said, "The beauty of this campaign is the creativity. It shows churches aren't stuffy, boring or completely separated from the creative aspects of our culture. The Gospel message isn't boring and neither was this campaign. Yet the main goal wasn't lost in all the creativity. The push was always to a website where you could learn how to better connect with this church."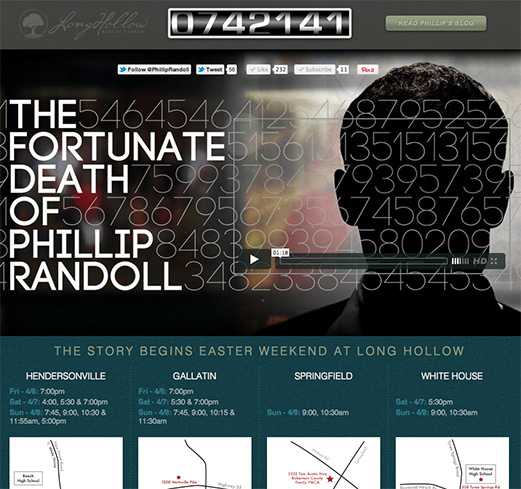 There is no doubt doing a campaign like this is a risk. Being different is always harder than doing what you've always done. But like many big risks, there can be a big reward, too. Long Hollow saw 5 times the number of visitors to their Easter themed websites than past years. The congregation was more engaged and actively involved with putting up yard signs and posters. As Murrell says, "The buzz in our community was obvious."
For their well thought-out, community engaging campaign of mystery, Long Hollow gets The Juicy for Runner-Up Communications Church of the Year in the large church category and a $1000 grant to help them with their upcoming communications projects.