Let's do a little logo association game. Here are some brands that have been paired together (picture after the jump). As you see them, do you think they make sense?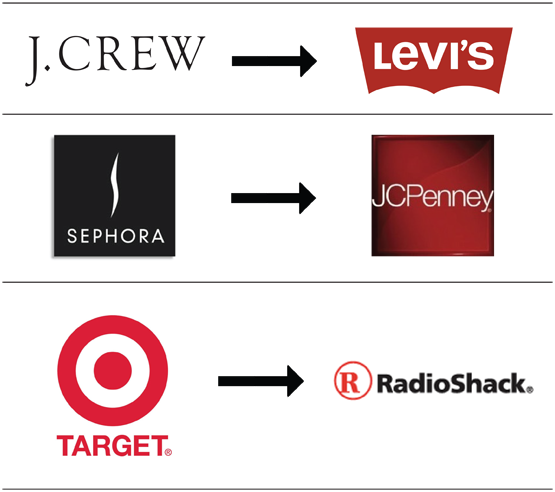 These are all real examples of partnerships I've noticed in the retail space recently and for me they don't really fit together.
J. Crew already sells high end jeans and now they're offering 501's from their competitor? What does that say about their view of their own brand? "Well, I guess our jeans aren't good enough, so come in and buy some 501's which are available at every department store in America."
Trendy makeup seller Sephora started putting counters in J.C. Penney stores which are anything but hip or trendy. Sure Sephora gets more exposure, but does it hurt them more with their established customers who look at them as something special and J.C. Penney as something ordinary?
Just this week, Target said it would continue experimenting with having Radio Shack kiosks in their electronics departments. In an increasing competitive electronics sector, is near bankrupt Radio Shack, or The Shack as they like to be called, really the brand booster Target is looking for? Radio Shack has a lot of gain and the Target brand has the most to lose.
There is no doubt that the money changing hands in these deals have to make it worth it for the respective companies, but from a brand perspective it's seems way out of whack.
I bring up these examples of fairly mismatched partnerships to look at ways we make similar, questionable decisions in our own churches.
Partnerships. How many times do we decide to join up with another church or organization without really researching them only to find out we don't really have the same vision or goals? You end up spending more time trying to understand each other or compromise that you don't get anything accomplished.
Ministries that don't fit with your overall vision as a church. They've either been around too long or are the pet project of someone influential in the church. They are ministry projects that need to be cut, but no one can say no. Having sacred cows is bad stewardship both financially and in respecting people's time and talents.
Worship elements that don't fit. Maybe it's an under rehearsed dance troop or unending announcements that totally stop the flow and momentum of worship. Either way, when you're crafting a worship service remember you're telling a story from beginning to end. Distractions or elements that seem out of place can hamper the worship experience for people in your church.
And after all of this writing so far, maybe I'm completely wrong.
Partnerships (Part 2). What if this is really a lesson in successful, unexpected partnerships. From the outside, these corporate matches don't look smart. But what if they work by bring financial and brand awareness success to all of the companies involved?
Take the money out of the equation and look at it from a church perspective. What if two churches partnered to do good? They know each other and think there can do greater things together than apart. From the outside, they may look like the odd couple, but in their actions the duo makes perfect sense.
(Red apple and an orange image courtesy of Shutterstock.)