The Church at Severn Run is a Juicys Winner
(The Juicys are a way to recognize and reward those churches who've worked to improve their church communications during the last year. It includes giving them a grant to jump start their next project. This week we'll be announcing the 2013 winners. There are five in total. Two are larger churches and three are smaller churches.)
Like many congregations, The Church at Severn Run in Severn, Maryland, found themselves in a rough communications spot.
"Each and every ministry had a bullhorn and were allowed to advertise in any way they wanted," explains Brand and Communications Manager Bonni Mace. "The walls were covered in multicolored fliers, the atrium looked like a kitschy craft fair due to an excess of sign up tables, our bulletin was a full sheet of legal paper, front and back, and the video announcement slides were too long to watch. All of this 'noise' caused a disjointed feeling church, one that had no clear mission."
Yet the church did have vision and realized a need to reiterate what it meant to be a Christian and part of the church. The idea of rebranding started with Mace, who was a volunteer graphic designer, and another person. The first task was standardizing the look and feel of church communications pieces and understanding the language of how the church speaks. Ultimately, the changes made it easier to communicate who Severn Run really is.
"Communications finally matter at Severn Run because it portrays that we are a unified body of believers passionate about creatively revealing the love of the Father through the life of the Son in the power of the Spirit," explains Mace. "Each of our members can quote this mission (or should be able to by now) and having a clear, driven communications strategy that strongly supports this mission is vital to the growth of the Kingdom in our area."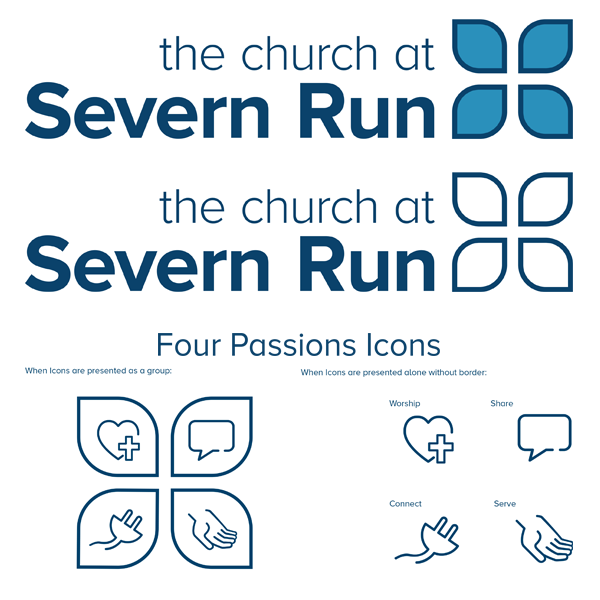 (See more of the rebranding in use by downloading this PDF.)
One of the first opportunities to show the impact of this focused mission was an annual community outreach event called Food and Fun Fest. While the event itself was a big undertaking, it's the video Severn Run used to share the reasoning behind it that caught the attention of one of our judges. "This is clearly more than an event for Severn Run," he said. "It's a new commitment by an eager group of people to show the community the love of Jesus. I can see how this video helped the church double the number of volunteers after it was shown."
Food and Fun Fest had more that 2,500 attendees and 40% percent of the congregation served at the event. The biggest win for Mace was the difference in how the church presented itself to the community.
"New folks can come and see that our family is passionate about loving them well, showing them Jesus, and believing big in the future of their lives," she said. "This sort of buy-in is hard to create without a clear communication of our mission, values, and priorities."
Mace has advice for other churches looking to follow Severn Run's example. The rebranding and revisioning wouldn't have worked without leadership support.
She said, "If you come into a church as a volunteer, guns-a-blazin' for a strategy change that your leadership isn't on board with, you're just going to fall flat and possibly cause some disturbance in your congregation. If you want to help your church family create a communications plan, you have to first help your senior leadership understand why it's important and why you want to help with the job."
Up next for this church of 1,100 attenders is a plan to further build their Creative Team. They plan on using their grant to help equip a passionate group of volunteers who need the right tools to better tell Severn Run's story.