The Grove is a Juicys Winner
Editor's Note: Planting a church isn't easy. There are the highs in reaching out to a new community and lows of hitting roadblocks along the way. That's where Jerry and Eppie Wyckoff find themselves today. They're raising support to start The Grove. Since they first applied for The Juicys, the process for launching their church looks murkier. Because of that uncertainty, the Wyckoffs decided not to accept the grant money that comes along with The Juicys. We'll take that money and give a larger grant to the two runner-up churches in the small church category. The Wyckoffs have generously agreed to still let us share their project. After all, a big piece of The Juicys is education. We always want these projects to be a motivation and potential roadmap for churches looking to improve their communications.
The journey for this Juicys winner takes us to Denver, Colorado. It's a place of tremendous natural beauty, but also an area with a high population of unchurched people.
Enter Jerry and Eppie Wyckoff, who are building a team to launch a new church called The Grove. By 2015, they hope to officially start public weekend services. But now, they're raising support and a key piece of their communication is a print booklet.
"For church plants who will use a printed ministry plan to gain supporters and share their vision, the most important step is to read and re-read your copy to ensure that your message and vision is communicated clearly," explains Jerry, who's the Lead Pastor. "Share the vision that God has given you with words and images. Consider your target area and choose photos that capture the essence and values of the neighborhood."
The look of the brochure, designed by Eppie, definitely follows the trend of using filters to make images feel more retro. It wasn't a style used on a whim but instead an intentional decision.
Jerry says, "Our target area is going through a process of gentrification, but there is still a good amount of diversity in the neighborhood population. Because our target area has a lot of history (portions of the area were developed in late 1800s) and has been the subject of several revitalization trends over the past 100+ years, we chose to give the photos a vintage feel as a nod to the location's history."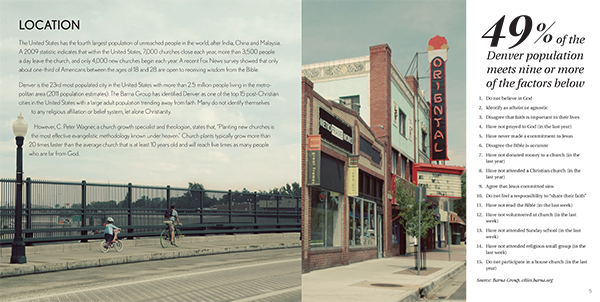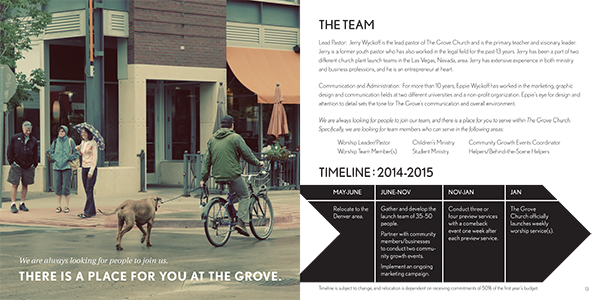 (Download the entire brochure here.)
That intentional design made an impression on one of our judges. He shared, "The branding of this project accurately reflects the mission of this project. It's one of the best pieces of church communications I've ever seen lately. Going beyond the aesthetics, they have a clear goal for the information they wanted to communicate and they did a great job of that as well. Looking forward to seeing what this church can do in the future!"
The future for The Wyckoffs means continuing to build relationships in Denver and sharing a vision of what a church can be.
"Many people have a preconceived notion of what church looks like or what church is about, but as a new church, we have the closest thing to a 'clean slate' as we will ever get," says Jerry. "We can't underestimate the opportunity that we have to communicate clearly and share the vision of The Grove with the community. That includes understanding our target audiences, our community and our responsibility to bring the heart of Jesus as we meet people right where they are."